BIA AGM Review & Committee for 2022-2023
The Ballarat Italian Association (BIA) held our Annual General Meeting (AGM) at BGT's Barkly Square Lecture Theatre on the 7th November 2022. The AGM was well attended by members, who were presented with usual but detailed reports from the President, Frank Cotronea and Treasurer, Michael Bigarelli. In summary of these reports, the BIA continues to be in a strong position to meet the needs of its membership as well as the Ballarat community.
RITA RIPANI – Life Membership Award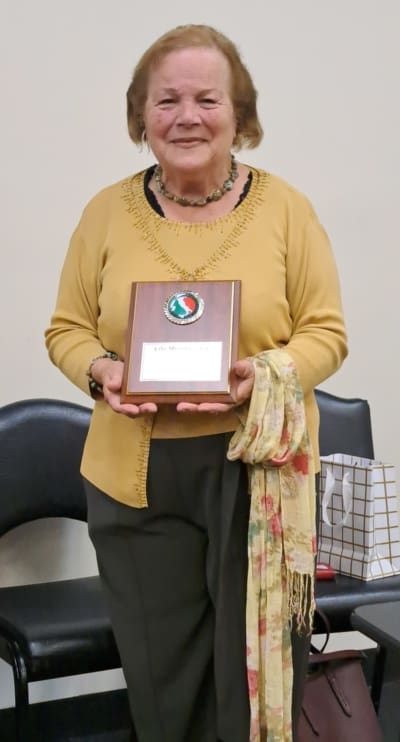 As part of the Presidents report, Frank Cotronea presented Rita Ripani with a Life Membership to the BIA. Rita has been a major contributor to the BIA over the years and is deserving of such an award. Here are some pictures of Rita receiving her award, and as always with a friendly smile. Well done, Rita.
Rita had also decided to step away from her role as a Committee Member and was not seeking re-election. Frank also thanked Rita on behalf of the BIA for her efforts during the previous year on committee.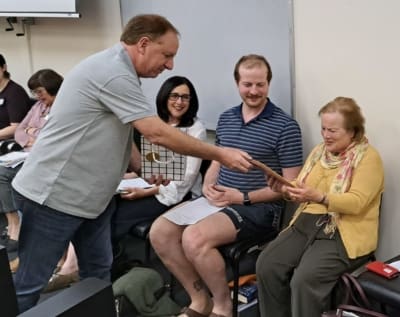 The final official proceeding of the AGM was the election of the Committee of Management for the 2022-2023 period.
All position were declared vacant and the outgoing President handed over proceedings to the returning officer. Thank you to a familiar face, in Cesare (Chez) Dichiera, for facilitating this role.
The executive positions of President, Vice President, Treasurer & Secretary received single nominations for each role. While the 6 available positions of Ordinary Committee Member had received 8 nominations. This meant that a ballot was conducted and attending members had to cast their vote to decide the outcome.
Following the ballot, the nominations that did not obtain a position were David Berry and Malcolm Freeman. Thank you to everyone for their nominations. As a reminder to you all, the BIA occasionally require the use of sub committees. As a member of the BIA, you can be part of a sub-committee as required.
The BIA would like to thank David Berry for his efforts whilst on the committee over the past couple of periods and note that without contributions of volunteers like this, the BIA couldn't exist.
We would now like to introduce you to the elected BIA Committee of Management as follows:
Following the conclusion of the meeting the attendees were invited to stay for refreshments supplied by Carboni's Italian Kitchen, Campana's Cellar & Deli and Maria Cotronea.
All in all, another great AGM with the promise of some exciting things to come in 2023.