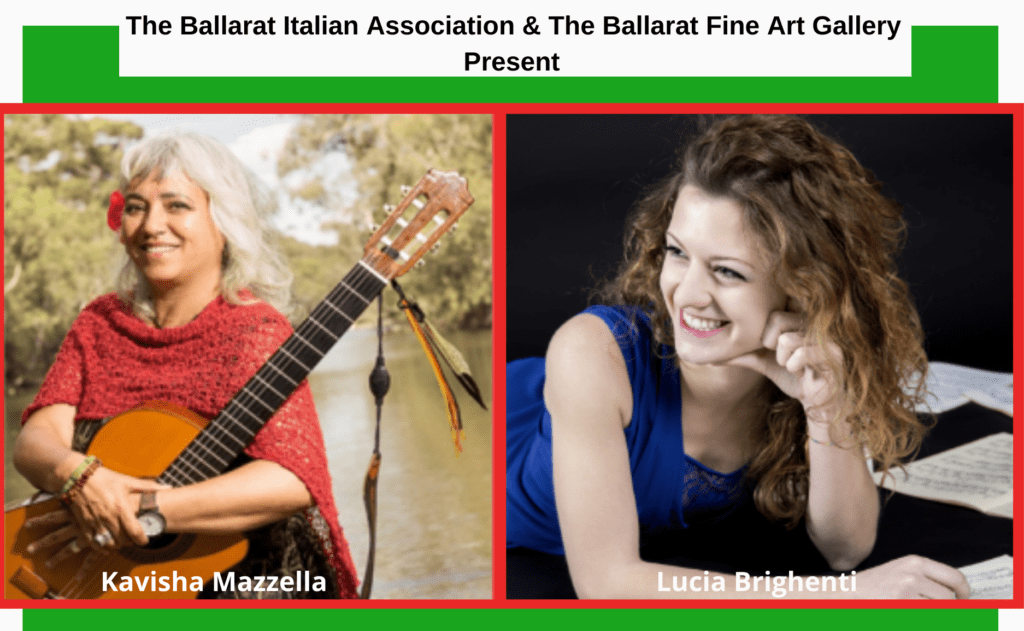 Kavisha Mazzella and Lucia Brighenti will be performing at the Ballarat Fine Art Gallery
Saturday 14th December 2019 at 6:00pm (Doors open at 5:30pm)
Tickets: $30/person BIA and Gallery members Non-members $35/Person
Booking online: https://artgalleryofballarat.com.au/events/
For further details contact Chez 0400 990 542
Kavisha Mazzella
Kavisha Mazzella AM is an ARIA award winning singer songwriter who has explored her heritage through Italian traditional song since the late eighties. Kavisha's soulful lyrical voice, accordion, and guitar, brings to life ancient songs with the beautiful strains of Jack Norton on Bouzouki. The Duo will play songs from Kavisha's recent recording of traditional folk songs from all parts of Italy and spanning 600 years of love and betrayal as well as her original songs.
Lucia Brighenti
Italian pianist Lucia Brighenti has cultivated her passion for music from a very early age.
Lucia graduated with honours from the Conservatorio Statale in Latina under the guidance of Maria Manzi. In 2014 completed a Master of Arts in Performance at the Royal Academy of Music, London, with Michael Dussek.
Winner of various prizes in national and international competitions, both in chamber music and as a soloist, Lucia has performed abroad in prestigious venues in numerous countries.
Read more about Lucia Brighenti
Download a poster for your fridge here