Lucia Brighenti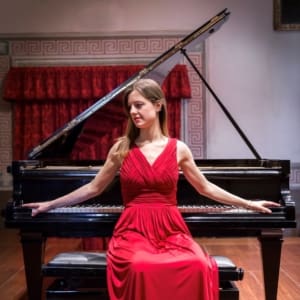 Italian pianist Lucia Brighenti has cultivated her passion for music from a very early age. Initially focusing her studies on solo repertoire, this young emerging pianist has developed and explored her love for chamber music forming The Brio Duo with the Spanish cellist Irene Ortega Albaladejo and collaborating regularly with other musicians. Lucia graduated with honors from the Conservatorio Statale "O.Respighi" in Latina under the guidance of Maria Paola Manzi and in 2014 completed a Master of Arts in Performance at the Royal Academy of Music, London, with Michael Dussek and Carole Presland. She then went on to attend a Postgraduate Course in Chamber Music with the Trio di Parma and is completing a Postgraduate Course in Piano under the guidance of Roberto Paruzzo. Lucia has taken part in masterclasses with musicians such as Lluis Claret, Mario Brunello, and Natalia Gutman.
She has worked as a Collaborative Pianist for Instrumentalists in the Conservatorio "G. Verdi" in Milan, as well as the summer course The Art of Cello (2015) by Christian Bellisario. More recently, she was the official pianist for the International Talent Music Summer Festival & Courses 2018 in Brescia. She collaborates regularly as a pianist in masterclasses and for auditions and is currently working as a Collaborative Pianist for Instrumentalists in the Conservatorio "G. Cantelli" in Novara.
Winner of various prizes in national and international competitions, both in chamber music and as a soloist, Lucia has performed abroad in prestigious venues in numerous countries, such as Mexico (Sala de Conciertos Felipe Villanueva), Germany, Holland (TIHMS Festival), United Kingdom (Duke's Hall, Old Combination Room – Trinity College) and Spain (Universidad de Murcia, Real Casino de Murcia).
She has been invited to perform as a soloist with orchestras such as the Orquesta Sinfonica del Estado de Mexico and the Orchestra Giovanile Bertolucci and has appeared on National Spanish TV on the program Clasica 7 with a live stream of a concert held at the Real Casino of Murcia. In 2013 she recorded the album "Object de vertu" by Bob Jones in Abbey Road Studios, which gave her the chance to explore a style close to the world of jazz.
In 2018 she was awarded the Charles F. Bruny Fellowship to take part in the Garth Newel Emerging Artist Fellow Programme in the USA. Versatile, with a lively curiosity for different styles in classical music, she enjoys designing interesting, varied programs with wide appeal.
Lucia Brighenti, sponsored by the Ballarat Italian Association, will perform at the Ballarat Fine Art Gallery on 14th December 2019 at 6.30pm